It's finally here! Unfortunately, we only had had one camera battery for the trip so had to limit the number of photos taken, and of course, keep Salome's camera dry. It wasn't quite as simple keeping the camera cool though, the glue attaching one of her camera grips actually melted and had to be replaced after the trip. But I think there are more than enough photos to show what happened on this trip. Travelling from Port Nolloth we went through the closets border post straight to the Felix Unite starting point at Cabana Accommodation Namibia.
The Day Before the Start:
We arrived in sweltering conditions with temperatures exceeding 40 Degrees Celsius on the 31st of December. Felix unite have an epic setting above the Orange river, with grass, trees, bars and swimming pools to ease the pain from the heat. Old friends showed up and new ones were to be made and 2015 seemed like it could go out with a bang. Part of our rowing package included old years eve snacks and a party vibe which we participated in gladly. The only problem is we are getting old and the idea of rowing early the next morning in blistering heat hungover scared us all to a different way of thinking about this. Even the real French Champagne, Holm (the hard rock drummer from our band) brought from a recent abroad trip, could not get the group out of the "don't get hung over" vibes. We pulled our faces with each mouth full and it resulted in me chasing Salome to the pool later that night…
The next morning:
Everybody showed up all pink-eyed and fearing the worst after a night of sleeping under the stars. But all fears soon dissipated with our induction and extremely knowledgeable guide. We packed our cooler bags and chairs and popped into the boats, not knowing what to expect. We armoured ourselves with sunscreen and clothing and took to the water like we had all done this before. The water was warm but a real refreshment after a short stint of rowing and we took many "swimming" stops to cool off and acquire the skills on how to get back in the boat from deep water.
Our first lunch stop would set the tone for the rest of the week. Our group leader/Guide and his team were incredible and waited on us hand and foot. They set up a shady spot and made lunch as we had a drink under our umbrellas in the shallows while getting to know everyone.
We took to the waters again and were slowly getting to ease with this rowing thing, power from the back and steering from the front. However, 100kg at the back and 50 in the front meant that I had a bit more rowing and steering power than poor Salome had at the front. Later the afternoon, this proved true event without me in the boat –  she had me swimming across the orange river to go save her after getting blown upstream to the distant shore trying to row on her own and could not get back. We were greeted with a standing ovation on our return and laughed it off, seems being heavy is not always a bad thing after all.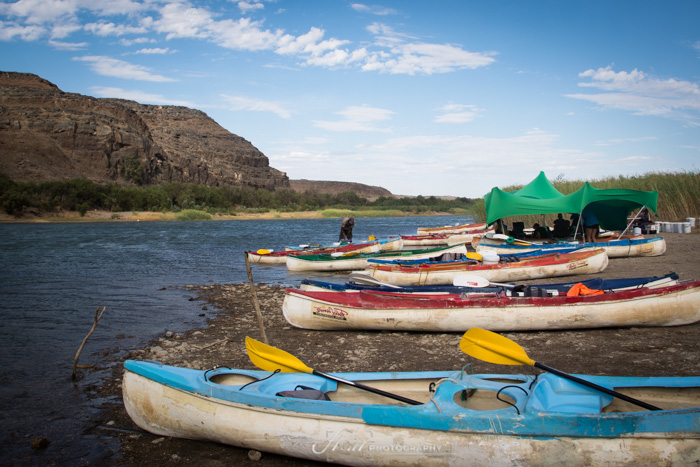 Our vigilant leader had the team set up camp very quickly and we had shade for the last few hours of the day, while we sat back and exchanged our rowing stories of the day with sun-downers on hand.
I got the opportunity to pull out my fishing rod (el cheapo telescopic one) and tried my hand at casting out little spinning baits. Soon I got joined by Holm's two inquisitive son's, Logan and James. I got to play coach for an hour and got them going each with a rod in hand and enjoying the anticipation of a fish. Fortunately, some of the other guys came well prepared to fly fish and could at least show these young men a real fish as we were just getting bubbles (I was having Fish River Canyon fishing flashbacks, or should I say lack of catching fish flashbacks).
These two young men got so enthralled by the fishing that they tried creating new baits like "jelly tot popper" etc. Karin (Francoisman's wife) did not think any fish would be caught and said she would eat any fish caught by them raw. She had two swallow her words later on in the trip but managed to get out of that situation as only a lawyer can .
That night we had a lot of fun stories around the campfire until an exceptionally large Roman (Haarskeerder/ Sun spider- Solifugae)  decided to run and dance around the fire. People went flying and diving away from the fire as if the fire had exploded, with screeches and screams to match. Luckily the little guy soon got escorted to a bush further away from the fire. This prompted everyone to look for their own nook and cranny to sleep in for the night and make sure there were no other critters around.
The next morning I woke up with a stiff neck, we had the idea to buy blow-up lilos for beds and they worked real well except, this is where the weight came in, my lilo deflated but not the headrest. This left me with my nose in the air, but I would soon be brought back to earth as our first set of rapids were scheduled for the day. Salome had a bit of battery power left on her camera and hopped on the rocks and starting shooting the groups coming down. The pictures and videos of this had us laughing for hours afterwards with all the different expressions and poses captured.
Holm, as hardcore as always, went first after the guides and pushed through with a snerk of "what rapid?",  while James was sitting in front smiling all the way – faster was always his preference.
Tracy and Logan made it look easy going down but provided a laugh at the bottom with Logan's plea :" Mom, were going the wrong way!" They went down gracefully but soon got turned around at the bottom and had front view experience of the rest coming down.
Suzanne and Julian took a more aggressive approach with Suzanne clearly going with the 'hokaai hands up approach' while Julian was committed to pushing through at speed.
Our 'Chinese hat' friends were the last before we had to run for our turn down the rapid. Karin is poised as ever and Francoisman is going with the flow.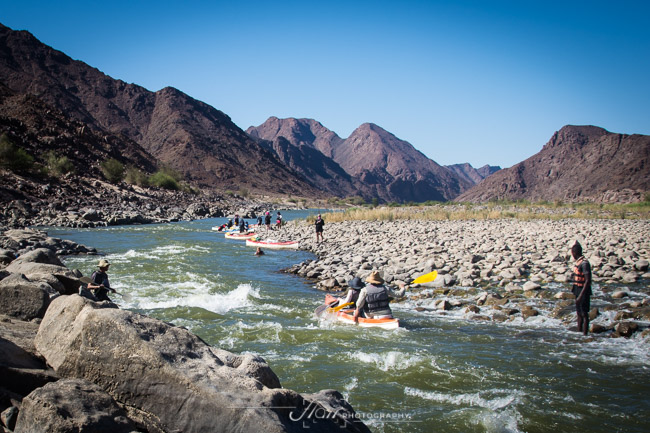 Unfortunately, all good things have to come to an end. The Orange River was so dry at the time that we could not complete the trip by boat (Murphey's law, the next week it rained). We then bargained our way to stay another night at base camp food included rather than stay at our point of disembarking.  Our wise guide saw this as an opportunity for the brave to hike up a mountain and see the views from atop and discover the mines secrets.
The views from on top were well worth the blistering hot hike up the mountain. Our knowledgeable guide shared the history of the mines and their demise and showed us the rocks we had to look for, pink, green and purple ones that would glow in a fire and explode to yield many smaller glowing stones.
After carefully manoeuvring the path down the mountain, we hopped on an old-school bus to transport us back to base camp and a night of fire and friends. Francoisman (Guitar Hero) and I grabbed our guitars and after our delicious meal thought we could give everyone a good send off with a few of our old band tunes and songs that that were never committed to paper. Everyone joined in and Suzanne's voice was considered as our new vocalist and a project that could take off. Salome was harmonising in the background and Francoisman and I kept on playing until a slight drizzle gave us a message to close for the night.
The next morning everyone fled in their own homeward directions as the beckoning of work and careers weighed in on hearts and smiles. Salome and I decided to go laze by the pool only to see our fly-fisherman still competing in the river below to see who could catch the most.
Homeward bound we saw some incredible sights too. We didn't have much of a choice, the bakkie started acting up just as we went through the border, and we could only manage speeds of 60km per hour. It turned out the petrol pump's time had come at 165000km's, after spending the night at Sakkie se Arkie in Upington we headed home veeerrrry slowly. Sure enough, that was the best economy the V6 ever provided and we did over 600km on that tank instead of the usual 500km.