Orange River Trip part 1: Goegap & West Coast
"Here I am, on the road again…" are the Metallica lyrics that ring in our ears as we ride the blue beast along the roads to new adventures. This time we are heading to the Border of Namibia and South Africa to go join my group of friends for a canoeing trip on the Orange River. We did not get to explore as much as we wanted with the drive to the Fish River Canyon, so we decided this is the time to do it.
Northern Cape
The Northern Province goes in to the Green Kalahari of the Northern Cape and bits of the South African West Coast where we were headed. Green, however, was not to be seen until one reaches the Orange River. This was, unfortunately, a severely drought-stricken year and the fields were filled with emptiness and dust devils patrolling.
The first night we met up with the Holms and camped at Rooi Sand – which had good camping facilities. They were already settled in their cabin and invited us for the universal braai. That was a blessing in disguise as the drinks that usually go with braai was the only thing that helped us sleep through a stormy night in the tent later on. It felt like we were sleeping inside a dust-devil and the 6-foot high bow tent got pushed flat on to my nose by the wind quite a few times. Needless to say, we were up early and on our way.
Goegap
As the Holms made their way to Aix Aix in Namibia we headed off to the coast (I try to take Salome to the beach at least once a year), but first we visited Goegap Nature Reserve. This little gem I discovered when I took my mother to see the flowers a few years ago. It did not disappoint us! We got to capture a magnificent thunderstorm following us in over to the mountainous part of Springbok (Goegap is basically just outside Springbok).
We just made the gates and the show continued with far-off lightning over the mountains and a sky littered with stars. Goepap has good, clean facilities but no electricity –  which wasn't a problem for us. We could even set up our tent under a small grass roof which was probably meant for the vehicle.
The next morning we took the 4by4 trail inside and went to look for a good shot of a Onyx. Salome enjoyed the colour contrast that the grey of the mine heaps provided on the one side of Goegap to the yellow ground. It sure is hard to believe that these all turn into a fields of bright flowers with enough rain.
Kleinzee
After exploring the beautiful succulent garden that Goegap has to offer we set off towards the coast and the little town of Kleinzee. This poor town seems to be steadily shrinking as the mine activities have been cancelled, and it might just fall away to become a ghost town. We did, however, find the one shop open had ice cream, coffee and service with a smile. Soon after we were looking for the beach where we actually found this to be the busiest part of town with quite a few locals having fun in the sun.
Its a beautiful beach quite a bit away from the town, Salome and I just had to go for a walk. Being the crazy person that she is, this included a half body depth walk into the freezing ocean for  her. My KZN background does not enjoy the cold water but at least my feet went in.
Port Nolloth & McDougals Bay
After posing and strutting our stuff on the beautiful white sand beach we set off on the 63km dirt road to Port Nolloth and our camping destination McDougals bay. We headed back to the tar road for a bit approaching Port Nolloth, and saw what looked like a huge cloud on the horizon. This was strange as it was almost 40 Degrees Celsius outside. I have not worn a shirt since we left Gauteng but immediately after arriving in Port Nolloth I needed to find something with sleeves. The temperature dropped to under 20 Degrees in the middle December in the Northern Cape Town.
McDougals bay is a very popular destination for the Northwest and Northern Cape Holiday makes that we never knew existed. We walked through all the holiday houses and holiday accommodation and people seemed surprised to see Gautengers around. Our campsite was a very busy with people and kids everywhere but all in friendly and very accommodating. Our spot had another spot in front of us as this was a last minute booking but it was still a great pleasure to sit and prepare our supper watching the sun set over the ocean.  I really want to go back and get a site on the front next time. McDougals bay is a calm water bay protected by what seem like a small island. The people come with boats and jet-ski's and kids are floating and playing in the calmer water.
The next morning we were up and about early as we had a bit of travel still to do and wanted to explore Port Nolloth a bit before we left. The whole town was again hidden in a cloud of mist. It made for spooky harbor shots which Salome loved. There were a lot of fishing boats around lying on the beach in the harbor and Salome didn't let the opportunity slip by to get some good pictures. I actually also made the cut just show I was there. Later I tore her camera way from here just to get a picture of her to show she too was not just a ghost in the cloud. And yes she is wearing a jersey in the Northern Cape on a mid summers day!
Okay some more boat picture are in order now, I actually would have loved to see these boats go out in the fog and disappear into the eerily calm waters. I think the boast are mostly used for crayfish collections and probably other shelled sea creatures.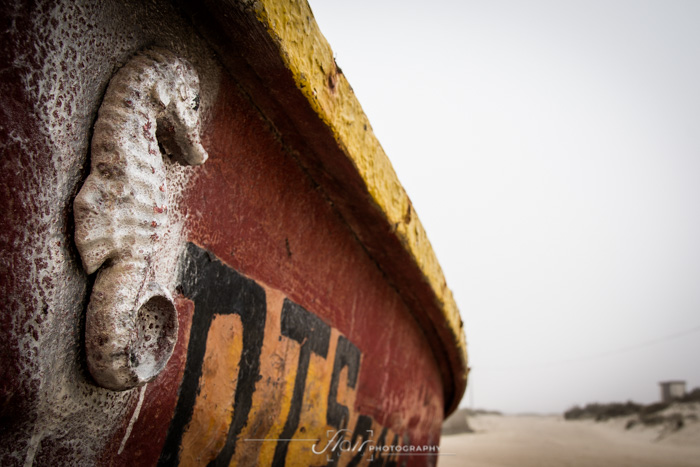 We left the mysterious cloud after lunch and were abruptly back in another world, the skies went blue the fields and sand yellow and  the heat pouring down on us again. Within a few seconds windows were up jerseys off and the aircon was pumping full blast in another over 40 degree day. The further North we went and closer to the Namibian border we got the hotter it was outside! More in the next installment Orange River trip part 2…