Our First trip to Kruger National Park
Yes, we are South African and we have never been to the Kruger – so we thought this winter was perfect opportunity to change that. We got ourselves a wildcard made, sorted the online bookings and off we went to The Northern Kruger. This was the farthest part of the park from Gauteng but the only place where we could find camping spots this close to the peak season. As we got closer and closer strange trees along started to appear, getting bigger and bigger the further we went. We were surrounded by the famous upside-down trees, Boababs.
These trees are amazing and make for wonderful pictures, Salome could not stop snapping and the plant scientist in me was enthralled by their sheer beauty and size. Dwarfing the mopane and magnificent creatures which took them for shelter or shade.
The Northern Kruger borders Mozambique and Zimbabwe and once we entered the Pafuri gate we immediately made our way to the legendary Crooks Corner. This is where the river divides the three countries. Unfortunately, the river was dry in the midst of a serious drought. Al we found were crocodiles guarding the last bit of water and the border from illegal immigrants.
On the way out we stumbled upon a young hippo, it almost walked straight into us.  We hit al breaks and hoped it was not aggressive. Luckily it went off through the shrubs and left us unscathed.
After this close encounter, we decided to rather head to camp after the long day's drive. Our first night's campsite was Punda Maria and it did not disappoint. On arrival, we sought out a good spot bought some wood and made a nice campfire for our first Kruger night. This campsite had a hide on the fence with spotlights overlooking a dam. Every now and then we would see people heading out with coffee in hand for a view. We followed suit and were treated by elephants coming for a nightcap while hyena eyes were glowing in the background.
The first night went to quick and we woke up early to be surrounded by a flock of Elvis impersonators. These were, in fact, crested guinea fowl. They had magnificent manes that would make any boy band members jealous. We packed up camp as they were scratching about. We still had a plan to go do the hike inside the camp before we left just to stretch the legs and so we did.
We took the road south after leaving camp and looked for a picnic spot where we could settle for a brunch. We found an amazing spot, called Babalala picnic spot, where you can hire a gas bottle and cook your own scramble. Shade was provided by an incredible tree right at the centre of a lapa structure. We sat down and had some 'samies' and flask coffee while the starlings looked on.
Then it happened, going to the bathroom next to the picnic spot, we saw a group of elephants helping themselves to water from a concrete dam. Behind them, in the bush, I picked up a strange antelope looking towards us. I grabbed the binoculars and claimed it as a Roan antelope! Probably the rarest antelope in the Kruger. Unfortunately, we only had a 200mm lens to take a picture with and that shows in the over-zoom photo shown. I promise its a Roan!
This siting made my day, I thought, but more was to follow as we were headed to Shingwedzi camp next renowned for good birding. I was just pointing out bird after bird and poor Salome had to shoot. All this without a proper zoom lens. I actually ticked two pages in my bird book with only the afternoon session towards Shingwedsi.
Salome finally found her favourite bird – she calls it the South African flag bird as it has all the same colours. Good specimen, white fronted bee eater. It seemed as the Mopane got less as we went further south and saw more game next to the road and river. We never try to get close to big game, but this elephant walked right up to its favourite branch next to us and started scratching itself to our amusement. This picture is up on our wall. We slowly crept by and left him to his scratching post.
A few hundred meters further down the road we met another big guy that emerged from the palms. This big bull buffalo just glanced at us and sped off. We made it to camp just in time.
Shingwedsi has a beautiful restaurant on the river and braai area for day visitors. Salome could not let the sunset go by without pictures so I stood in for the game and made Salome put the camera on auto for me so she too could have proof.
We reached the camp gates just in time before closing. Shingwedsi has a beautiful restaurant on the river and braai area for day visitors. Salome could not let the sunset go by without pictures so I stood in for the game and made Salome put the camera on auto for me so she too could have proof of being there.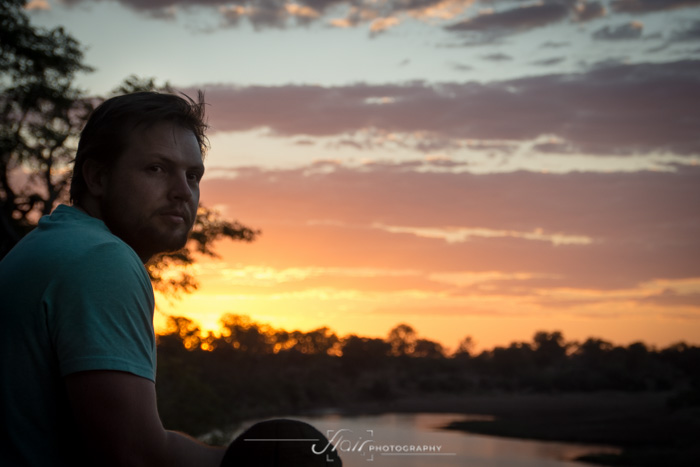 By now we should know how to set up camp in the dark so we managed but the wild felt much closer with fewer people in the camp and camping closer to the fence with no hide for protection…
Check out the Photo Gallery for the rest of the photos!