Our First Adventure
Hiking the Fish River Canyon is by far one of my best personal adventures. It had a lot of self-discovery ( a few fears like heights!!!), and it was  "the relationship tester" too. Salome and I had only known each other for a few months we got the great opportunity to go do this hike. Some other friends were already going, and asked if we would like to take the spots of two people who had booked but could no longer go
The Trip There
Getting there was very much part of the trip! I had bought a new (old 2005) Hilux and it was time to see how it does on the long road. We left Pretoria after two weeks of preparation (think packing dried food and clothes into borrowed backpacks). This was the first relationship tester. I like being prepared with the minimum and Salome likes being over prepared with, let's just say, more than the minimum.  I like doing things systematically so twee weeks before we left I packed my bag with all but the perishable foods and clothes and that was it, bag stowed away and ready. Then I would take another bag for the travelling clothes as well as food for there and back. Salome felt this method is too easy and had to reorganise near everything the day before leaving. But enough on the packing for now.
We stopped and slept over in Kimberley, South Africa, where we picked up my great friends Gerhard and his wife Lulu. After a bit more packing we went straight to Augrabies National Park. This was a very enriching experience for myself, I mean just look at it! WOW! In a desert area.
I was overwhelmed with fear walking up to it as I heard the water falling from a non-conspicuous flat desert environment. It seems to appear out of nowhere, the first signs of a canyon materialising as this water-mass thunders down into the sudden tear in the landscape. The sounds bringing back memories of being tumbled by huge huge waves in my youth. I started to realize that there is so much in the world and specifically in this country to see! A humbling and spiritual experience for myself. Salome also loved it and we had to go take pictures the afternoon and the next morning at sunrise (she's the keen photographer, and light is always best then apparently).
After the photo session and a bit of exploring we packed up camp and headed for the border vowing to return with more time ( I, in fact, returned in 2016 to Augrabies and will definitely be returning again!). We decided to take the routes less travelled since we had a 4 wheel drive vehicle, encountering beautiful places (Quiver trees all around) and old relics (road signs from a bygone era).
As you can see we decided on the Onseepkans border post. What a pleasant small border post, we were just 2 vehicles and everything went smoothly. From there we made out way to Ai Ais to meet the rest of the group and camp one night before we start the hike.
We got there just before dark and met up with everyone, set camp, checked bags and hit the ground sleeping all though the excitement was too much. We had to be up really early to catch the vehicle to the starting point.
This turned out to be the coldest drive of our lives. An open-air game viewer with the sun just starting to come up and its quite a drive. I actually had to wrap my really big parka jacket over poor Salome who was sitting on top of me quivering from the cold. We reached the check station and everyone got out freezing and got their papers out.
"MY PAPERS!" I had forgotten them at the camp (medical clearance certificate etc). Luckily there was a doctor in the group and we could manage to let me still participate. We handed everything in and left the big jackets behind thinking this was the start. WRONG! The start was far, another drive in an open-air game viewer without big parka jacket. This time I was sitting on Salome's lap shivering myself blue.
Finally, we reached the start.
The Hike
The first part of the hike was extremely daunting for me as I have quite a fear of heights but Salome (adrenaline junky) loved it. I was hugging the chain all the way down and more on all fours than most in my group. The walking stick would not have worked form unless it had a secret glue to stick to rocks. Nevertheless, we all made it down safely except for one elderly lady who had a slip and scraped a lot of skin from her legs. The shock was a bit much and some else volunteered to help carry her bag. Our group leader was monster of a man who carried both bags with a tent and was out in front the whole time.
Finally reaching the bottom taking lunch we thought wow how far we have come looking up only to realize that we were now only at point 0 of the 90km.
We soldiered on taking breaks regularly and finding our place in the unique group of people. We encountered some sightings that made us wonder: If the game couldn't survive in the canyon how could we?
We were all drinking water from the river by the first night (wherever there was flowing water). Some were hardcore and drank it without the tablets, we just added the tablets and some flavouring (I have a notoriously weak stomach, Salome has a concrete mixer). We found a level sandy spot and rolled out our mattress and fired up the small gas stoves for supper. The first day almost came to good end except for me cutting the ball of my foot. Plastered it up and went to bed after a nightcap shot (neat whisky to make sure I am out).
Woke up (I sleep real lite) at 01:00 and it looked like day, I couldn't believe my eyes. Looked around at everyone fast asleep. It was a full moon but because you hike in the middle of the canyon the sun and moon set earlier and rises later. I tried sleeping again only to be woken at what felt like 5 minutes later, by my alarm to get up. It was 6 o clock and pitch black. Gas stoves out cooking water and having breakfast while packing up. Everyone was waiting for us. Salome didn't sleep well (cold at night) and was groggy and we are slow up. Luckily Gerhard is the only person always later than me so it worked out well that he was there.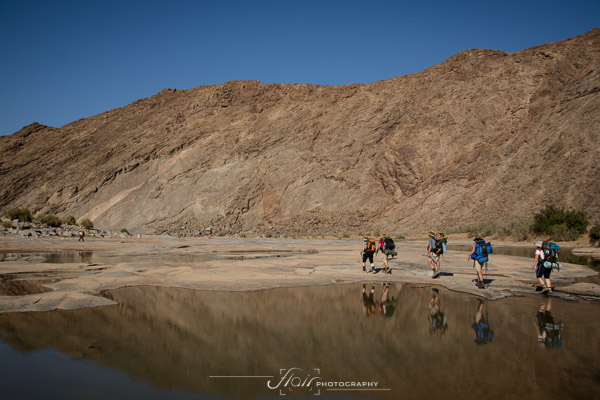 We spent the next day walking at a sturdy pace but it felt like we got nowhere! There were no signs that we were on the right track, we found out that trees are few and far between and started aiming for large rocks for shade during breaks.
The toughest part for the elderly and non agile (such as myself) was the boulder hopping. Salome skipped across them like a gazelle but the rest of us found the balancing act with a huge bag on your back quite tough going. Luckily when we did the hike the water levels were really low so we did not have to do many swim through crossings, except to cool off. We mostly selected to take the dry routes.
We carried on through the day realizing our own strengths and weaknesses and subduing our fears of starvation and dehydration with biltong and minutemate, and decided on a nice level spot for the night. I carried along my fishing rod and tried my hand with a spin bait in any pool I could find. The other opted for a cold bath/dip.
That night I gave Salome some of my clothes in the hope that she would sleep better and added some whisky to our tea as well. Time for bed and this time I tried getting close to a rock to shade the moon.
The next day we all got up slower the days have been long and not many marking were found but some tracks suggested we were going the right way. We finally found a marking saying 40! We were unsure if it was 40 to got or we have done 40? We looked at the maps and thought we better push on more otherwise we were gonna run out of time to finish the full hike.
We went on and on and tried to reach 'palm springs', we read about the hot water spring there and thought it would make a good stopping point. Man, were we disgruntled bend after bend with no palm trees and it was getting late! Finally our leader dropped his 2 bags and went for a jog to see and it was 2 bend further when he came back with the good news. We made camp there and relaxed a bit. My first bath/Jacuzzi for the hike.
Night grew quickly and we quickly ate and jumped in bed after our night cap. Woke up again in the middle of the night with Salome shivering, tried putting her in my sleeping bag too and she warmed up a bit to sleep. The next day we were all up quickly and energized after the previous days bath and we decided to hit it hard today. We caught the baboons, saw some wild horses and reached the Germans grave.
We decided to push on as far as we could and saw some signs of civilization thinking we might be getting closer to the end. We found a big piece of river and some trees and made camp with fire and firewood. The Camera people played around with light painting and came up with some brilliant photo painings for our last night in the canyon.
We all shared some stories and whiskey around the fire and hit the sleeping bags hard. We had a long day of pushing. With the route getting more sandy than the previous boulders.
The next morning we were all up and about, hoping for civilization, a chair and an ice cold beer. Paths started to appear as the sand became harder. It gave us more hope and soon we were following the path hoping it would lead us to tented freedom.
Finally, we reached Ai Ais camp, a lot earlier than expected and some in our group actually walked past and had to be called back! This was the end, bags were hung, loved ones greeted, shoes deposed off and ice cream was eaten by all. Then followed the slow ice cold beer.
I'm gonna end it off here for now as I feel it's getting long. There was more time spent travelling back and a few more tiny adventures along the way. As well as finding a Namibian scorpion running out of the bags while we were busy unpacking in Pretoria. Maybe that's how everything in the dessert survives they hitch rides out. Let's just say enough sand was unwillingly brought with for them to create a new home here too.